It all started around 1:oopm yesterday, when my loving boyfriend Josh decided to bike 30 miles to visit me at school. It took him two and a half hours, but he finally made it. We worked it out so a new friend of mine, Leah would take him home. We got directions, and somehow went awry, due to Josh's insistence upon there being an exit at Warrensville. Basically, we ended up downtown, as always when I attempt 480. It took us way out of the way, and we didn't get back until about 2:00am, with our very first classes starting in just a few hours. And to top it off, I left my phone in Leah's car, and had to ride the bus to the stadium at 3am to get it. I felt so horrible for all of the mixups, and I apologized profusely. I told her that I'd make her a hat to make it up to her. She wasn't mad, and she was sort of glad that she got to see some of Cleveland.
I knit furiously through the day, and presented this to her at about 4:30, much to her surprise.
Here are pictures of me modeling it before I gave it to her.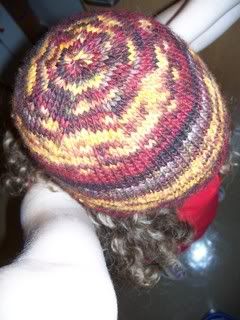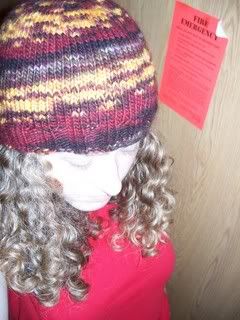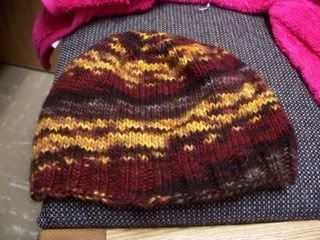 I love this yarn, it's called Malabrigo, and it's merino wool from Uruguay. It's so soft and smooth. The pictures are a pretty accurate representation of the color. I like how the veregation created diagonal stripes.
I didn't realize how much I missed Josh until I saw him. Seeing him was fantastic, we got to watch fireworks, and I showed him around campus. Driving him home was rather tough, seeing all of my favorite places seemed so foreign even though I left less than a week ago. Next weekend will be epic: a 20 mile ride through Cleveland with him. 2 of my favorite things rolled into one activity.
On another bright side, Leah and Leanna showed an interest in hanging out in Cleveland one weekend. I guess Josh and I can sure sell a city.
My classes today were good. I need to find an easier way to get to my math class, i only have 15 minutes to practically cross campus!
Anyways, I'll post again soon.