Yesterday, I started packing away the yarn I plan on bringing with me to college.
Let me tell you, knitters about to embark on this journey- it is no easy task.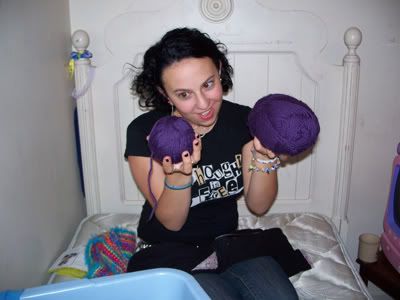 However, early on in the endeavor we realized if we wound all of my yarn into balls, it would take up less space and allow for MORE YARN to be packed away.
Using this method, we were able to reduce the
necessary
stash to this: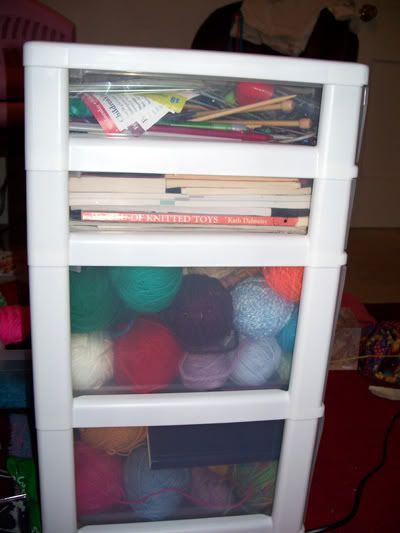 and this: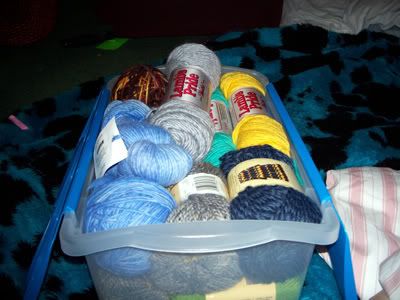 Please note that this box does indeed close.
If you apply force.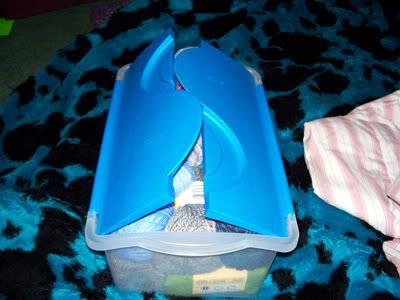 In this box contains enough yarn for two sweaters, and other various gifts and goodies. Basically, everything in this box has a plan.
In addition to this yarn, I am also bringing all of my dpn's, my denise needle set and a few pairs that my denise set does not include. Also, I am bringing about 6 sets of size 8 or 9 straight needles. I don't even use straight needles.
"Why bring that many pairs of size 8 and 9 needles? Are you crazy?"

Simply put, they are for conversion, my friends; In case I cannot find any worthy knitters at Kent State University, I can just
CONVERT
unsuspecting dorm-mates into becoming knitters too! Despite what some of us claim, we weren't born knowing how to ssk.
Want to see what acrylic fun fur barf and misc I am leaving behind?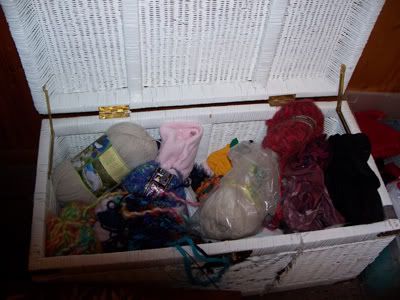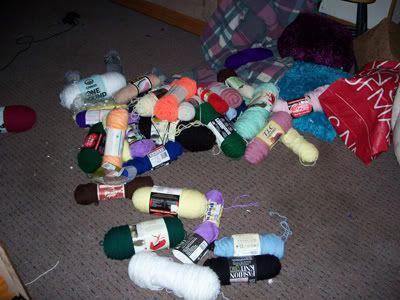 I will miss it.
Before this, Nikki and I got together to make scrap scarves out of all the random odds and ends I found whilst cleaning out my stash. Her kitten, Luna had a lot of fun.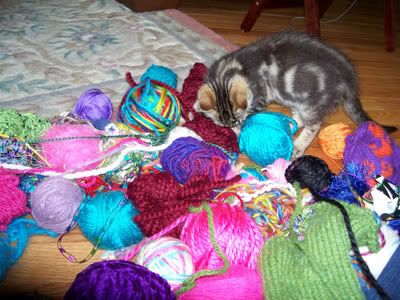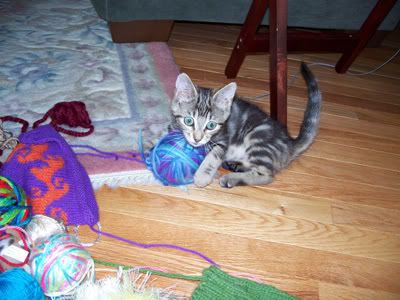 She's only about 8 weeks old now. Nikki and her older brother rescued her from the middle of a main road in Cleveland.
After our adventures in stash busting:
We baked the most disgusting cake ever, which ended up tasting like scrambled eggs.
All in all, a fabulous day, only made complete by Rosa and I driving to kinkos in the middle of the night to copy knitting patterns.
The end.