I didn't die. I just got really caught up with school work.
Anyways, here are a few things that I've finished since I dropped off of the face of the earth::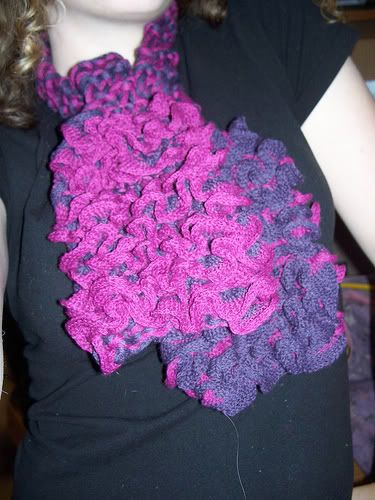 A ruffley ascot!
I made it out of ONline Linie 194 Solo, and used 2 skeins. I believe I used 12 stitches? One side is pink, the other is purple. I made it in two pieces and sewed them up.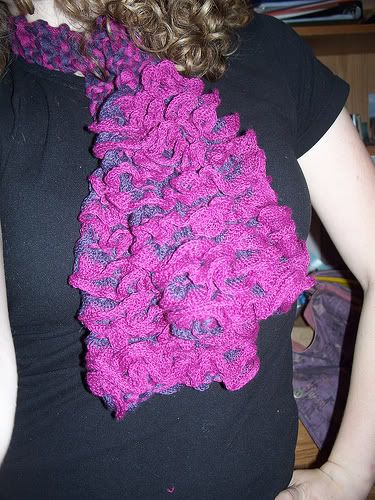 It's great yarn, but very expensive. I got it 40% off, so it wasn't that bad.
Also, I finished
my rusted root
. I used 3 skeins of lambs pride cotton flece. it's really light and summery.
Notice how the neckline gets wonky because of the lace pattern? Thats because I am a colossal idiot. I noticed online, everyone had a ribbed neckline. Since the pattern didn't BEGIN with this, i assumed it was some mod that mostly everyone had done.
I thought I was soooo much smarter. "Oooohhhhh.....I'll just cast on and rib for a bit before! What an easier way!!!!"
I got the end, and it told me to pick up stitches for the neckline.
grrr....
Now my neckline is all wonky and everyone who FOLLOWED the directions has a nice scoop neck. It didn't occur to me that sometimes designers have reasons for seemingly silly steps.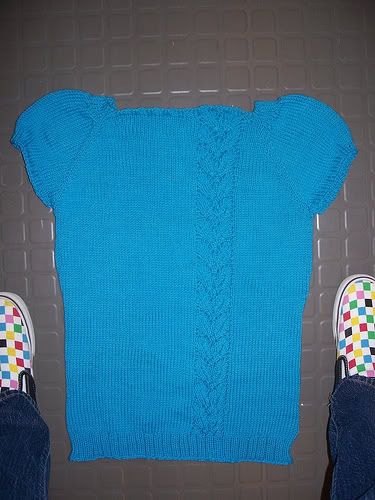 Since the picture, I have slip stitched around the neckline and it's a tad bit better, but still wonky. Oh well...
At least this microspun crochet baby hat for my little BROTHER came out cute!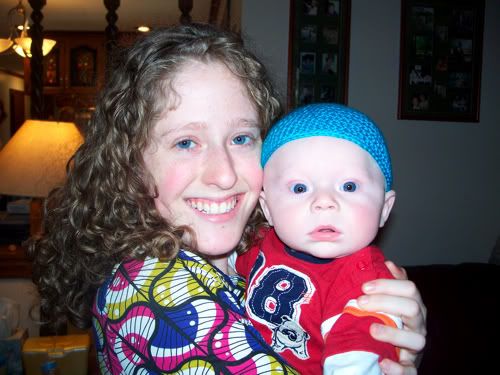 Within the next month, look for:
Strawbeary from Amigurumi! by Beth Dougherty
Daisy baby sweater from knitty
A malabrigo cardigan
...and parts of a knit garden I am helping a friend with.