I'm feeling pretty awesome. I was driving home, with "Crocadile Rock" cranked up thinking about how things are going pretty well. My favorite boy in boy in the entire world is coming back from his month abroad! Theres something so perfect about Elton John. It's IMPOSSIBLE to listen to Crocadile Rock, with all it's la, lalalala, la's and not feel good. If they put him in pill form, I'd be doped up on Elton 24/7
Yesterday I was at borders, looking at the new knitting books that had come in. I had texted Rosa, saying they'd gotten new ones. I sat down, and about two minutes later she came and snuck up on me. Either way, we both ended up buying books. She bought the new
Harry Potter
knitting book, and i bought one of those lion brand books, "Just Socks"because I want to get better at making them. Normally, I'm pretty reluctant about those Lion brand books, because I think that they are secretly trying to form some sort of YARN EMPIRE and I don't want to support that. No seriously though, I firmly believe this. Notice how many books they have, and how many magazines they sponsor. Heck, Joann practically only carries their yarns. It's tough. I have to remind myself that it's 'just yarn."
Anyways, I finished knitting the first sock pattern in the book so fast it didn't even have to appear on my WIP list! They practically
jumped
off my needles!
I used two strands of Lion Wool-ease held together, in some sort of oatmeal-ish color. I like them though, they look very organic. I pretty much followed the pattern exactly, them being only my second socks ever.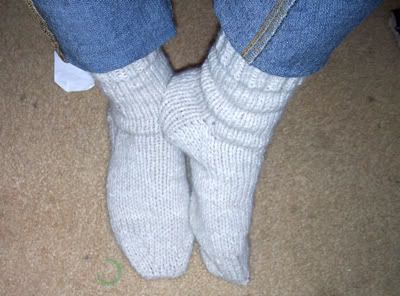 I have a feeling that every time I turn a heel, no matter how many time i do it, I will find it nothing less than magical.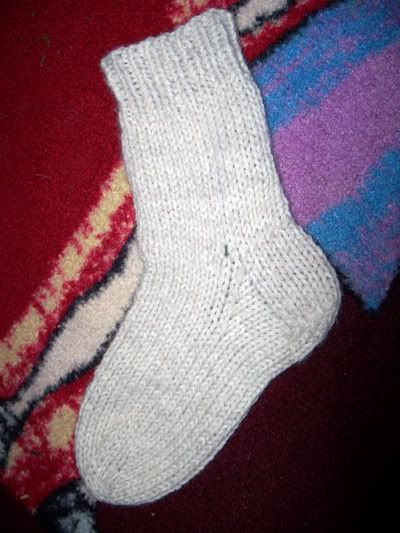 Peace out!